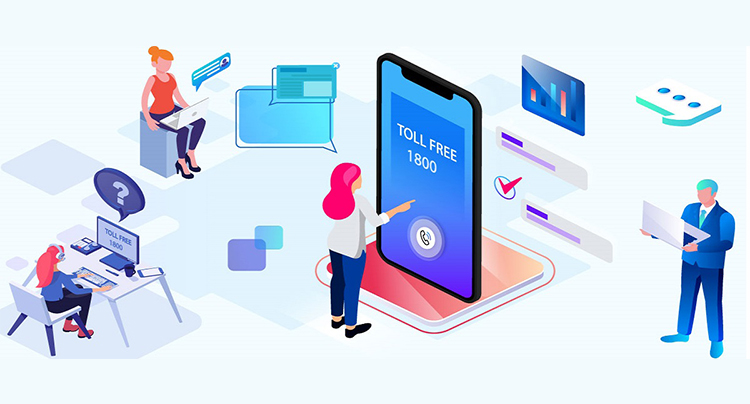 IVR/Toll - Free Number is a simple speaking solution for business
A business always means to establish a friendly relationship between an organization and customers. An organization has to take every measure to start with a choice of making customers as a satisfied customer and happy ones. Doubts related to customer queries should be the priority of an organization to resolve the problem. Binding 'trust' is possible by opening a source to figure out every problem and giving a solution to the customers.
Introducing a helpline or IVR/Toll – free number is proving a smart step in managing and figuring out the problems of customers. Interactive voice response makes every customer feel privileged and assurance of help at any instance.
What has IVR for Clients?
IVR tool acts like a virtual agent which communicates with the clients. An advanced IVR is designed and decorated with a friendly and conversational tone to admire the customers and help with their problems. From the directory of the corporate database, IVR helps in establishing a comprehensive connections. It can be used for a wide range of systems, and information all in spoken format. IVR or Toll – free number is used widely for applications like.
Automated account payment system.

Customer account information.

Banking service or balance information.

Energy notifications.

Customer market surveys.

Order status and tracking, and many more others.
E-commerce business companies as well as other sector business services all are now connected with their customers with IVR or toll – free number.
Benefits of IVR System
Listening to a voice call and choosing a number multiple times for an appropriate option is now old handling of customers. A friendly and softly smart system of IVR is making clients more attracted and helps the company as well customers for several benefits
Cuts down live call handling time.

Connects a customer via their database of information to the concerned department saving time.

The database and personal information help the system access the problem and solution in very less time.

A good IVR system allows maximum time call hold and expands the call capacity.

IVR also helps in the promotion new products, offers, and much more needed information.
IVR Support
IVR / Toll – free has given enormous services and worked for the betterment of the company. 'Analytix Mantra' is creating the best of IVR services for securing the future of business as well as making an easy connection with the customers. Add more with IVR to your heavily invested business of yours with the full promise of customer support.