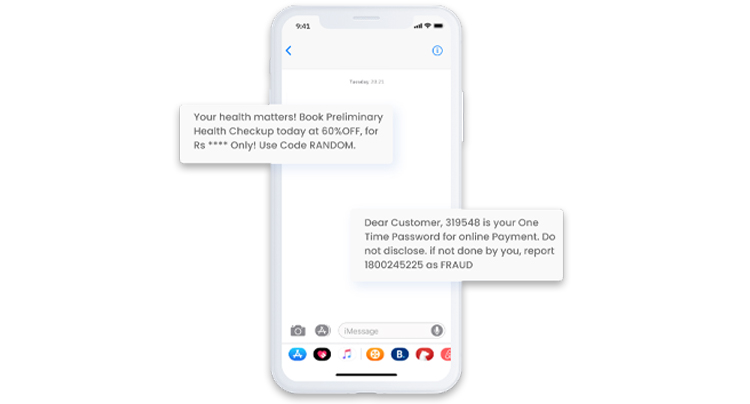 Transactional SMS is an alert to your phone as a service for monetizing database
Money is the priority to save and so be alert for every money transaction. The phone is now much -upgraded device and not only used for talking or judged as a communication device, rather it gives time to time alerts. A message with a beep sound is irritating and most of the person wants to get rid of these unwanted messages but there is something that no one wants to be missed. An alert of the transactional message is something that is never to be missed message as it carries information about the latest transactions of your money.
Need for transactional SMS services
The inbox gets filled with unwanted messages is always troublesome and the user is compelled to choose 'DND' which is related to 'DO NOT DISTURB'. Though, DND stops promotional messages and other messages except for transactional SMS. No person at any cost want to miss an alert of transactional SMS which can be related to; a PNR number, bank balance, order information, and much more.
Transactional SMS services bypass the service and advertisement messages and bring to your only alert messages related to the category of transactional SMS.
Transactional SMS services proving better
In a debate of transactional SMS services and their need, it has always been proven to be beneficial for the people demanding transactional alerts on the phone. Here are some points proving the services beneficial
The transactional message has 100% instant delivery result.

The transactional message can be sent anytime and anywhere without any time constraints.

Push delivery report.

High delivery ratio.

Real -time delivery message report.

Fast SMS delivery.
Various uses of transactional message services
Transactional SMS alerts should reach your phone always on time and it helps in managing account -related issues as well as alert of any ongoing transactions. Some of the listed transactional alerts are like.
Educational messages on fees and other relevant information.

Confidential financial information informing the client about payments details and cash transfer.

E-commerce information.

Booking information.

OTP verification messages.
Businesses, and online shopping everywhere it is needed to have a message alert for the customers.
'Analytix Mantra' helps in eco- friendly and user –friendly SMS service alerts at an affordable price. Help yourself with getting rid of unwanted SMS and receive only useful transactional SMS. Let, 'Analytix Mantra' help you with your business and make your transactional SMS services a useful service.